Mother Daughter American Girl Doll Tea Party (April 3, 2022 – 1:00 PM)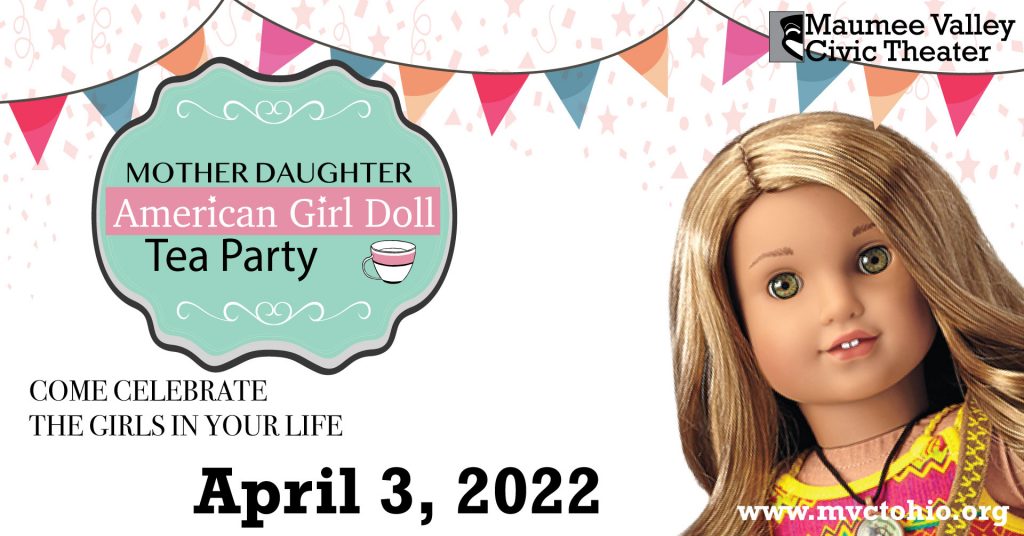 The team that has brought you 5 years of the Napoleon Civic Center (NCC) Mother Daughter American Girl Doll Tea Party is bringing this highly sought-after event to Maumee Valley Civic Theater (MVCT)! Put on your fanciest attire and celebrate the girls in your life by attending this special and unique event on April 3, 2022, beginning at 1:00 PM at the American Legion Post 300 (500 Glenwood Ave, Napoleon, OH 43545). Tickets go on sale March 1, 2022, until they sell out. This event is for all ages. Pre-registration is required. All children must be accompanied by an adult.
And don't forget to bring your favorite doll or stuffed animal to share in your tea party experience! Please keep in mind, while we are at a different venue this experience will still be out of this world.
Cost:
$20 each per daughter
$20 each Mother
$20 each Grandma
Additional Photo(s) can be purchased at the event only – cash, check and credit/debit card accepted $5
Included in the cost of the ticket:
Finger sandwiches, finger desserts, fruit and veggies, lemonade, water, tea, and coffee. Photoshoot with Mother and Daughter (additional daughter(s) and photos available) – photos will be available by digital download on a password protective website approx. 2 weeks after of the event (a password will be provided on the day of the event), beauty session, make it and take it craft, and a raffle with so many American Girl Doll items.
All sales final. Each table normally will seat up to eight (8) people, groups larger than eight (8) may be split up into two (2) tables. The Maumee Valley Civic Theater Representatives will try their best to honor any table request however, we cannot guarantee all seating requests will be able to be accommodated. All specific table requests must be submitted, if not submitted during purchase of tickets, via email (info@mvctohio.org) no later than March 20, 2022, to be considered.
Vendor Information
Each vendor should supply two items from their "product line" each equivalent to $15-20. Setup will begin at 11:30 pm on April 3, 2022, and all vendors MUST be set up no later than 12:45 pm. Vendors will be provided 1 8ft table and 1 chair Please note we will try our best to ensure that there are no duplicates vendors selling the same products. Please accept our apologies in advance if there are any duplicates.
MVCT will follow all required Covid guidelines.
Tickets on Sale: March 1, 2022