A Note from Maumee Valley Civic Theater President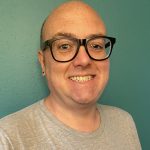 Greetings,
Maumee Valley Civic Theater (MVCT) has been impacting Northwest Ohio and Henry County for the past 60+ years and we know that you value the performing arts and enriching the community just as much as we do. 
MVCT is committed to bringing high-quality entertainment to Henry County, but we hope to provide so much more than that. We truly want to engage our town's residents and to foster community service through the arts. MVCT's goal is to create an environment that encourages and nurtures community participation, thus enabling the arts to thrive! We have big plans for you and our community, but we need your help!
MVCT is an all-volunteer, non-profit organization. We rely on box-office proceeds, advertisers, and the generous support of individuals, like you, who recognize the importance of enriching your family and community through the arts. The arts bring us joy, help us express our values, and build bridges between cultures. The arts are also a fundamental component of a healthy community—strengthening them socially, educationally, and economically—benefits that persist even in difficult social and economic times. Arts improve individual well-being.
But don't plan only to come and see our shows. A great discovery this year has been our potential to make our community even better. This year we will be reimagining the Henry County Christmas Parade, adding a Haunted Trail and hosting our first Obstacle Trail Run. MVCT has a bright future ahead of us and we look forward to having Henry County with us all the way.
We thank you for your continued support through your ticket purchases, volunteer help and your financial donations. We would not be here without you. THANK YOU to everyone who helps make the Maumee Valley Civic Theater great!
Check out our Season Brochure where you will find more information regarding MVCT, 2022-2023 sponsorship, and your benefits for supporting MVCT. Here's to a bright future for Maumee Valley Civic Theater and the ARTS in Henry County!
Warm Regards,
Jeffrey A. Tonjes
MVCT President
Joseph and the Amazing Technicolor Dreamcoat
July 27-30 and August 4-5, 2023
"Sha la la, Joseph, you're doing fine! You and your dreamcoat, ahead of your time!" One of the most enduring shows of all time, Joseph and the Amazing Technicolor Dreamcoat is a reimagining of the Biblical story of Joseph, his father Jacob, eleven brothers and the coat of many colors. Told entirely through song with the help of a main character Narrator, the musical follows preferred son Joseph. The magical musical is full of catchy songs in a variety of styles, from a parody of French ballads, to country-western and calypso. Appropriate for all ages.
You can click READ MORE or the image to find out more information about the event.
Download our 2022-2023 Season Brochure