Daddy Long Legs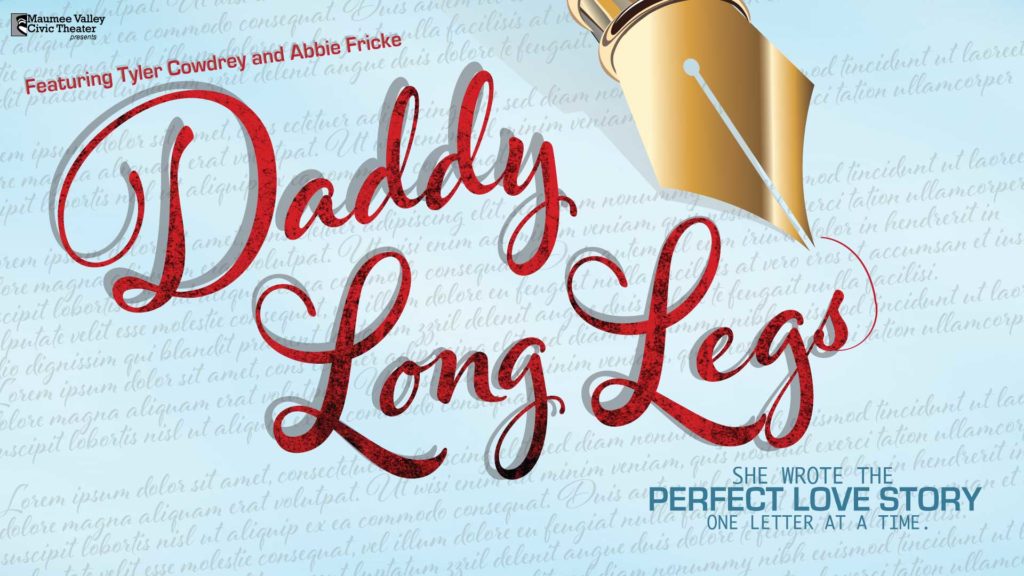 CAST
Jerusha Abbott  Abbie Fricke
Jervis Pendleton Tyler Cowdrey
DESIGN TEAM
Director Jeffrey Tonjes
Assistant Director Amanda Tonjes
Music Director Rhonda Lehman
Maumee Valley Civic Theater alumni Tyler Cowdrey and Abbie Fricke will star in MVCT's December production of Daddy Long Legs directed by Jeffrey Tonjes. The award-winning musical with music and lyrics by Paul Gordon and a book by John Caird, is based on the classic novel by Jean Webster that inspired the 1955 film starring Fred Astaire.
Daddy Long Legs is set in turn-of-the-century New England and tells the story of orphan Jerusha Abbott and her mysterious benefactor who agrees to send her to college, who she dubs 'Daddy Long Legs' after seeing his elongated shadow.
With a score of stunning musical numbers, Daddy Long Legs is the tale of two lives colliding and unfolding through Jerusha's letters addressing her Daddy Long Legs, working as an insight into her innermost thoughts of the world. Daddy Long Legs is an uplifting piece of theatre that questions identity whilst highlighting the importance of education, imagination and love.
Maumee Valley Civic Theater will host Daddy Long Legs December 17-19, 2020. Thursday – Saturday at 7:30 PM and Saturday Matinee at 2:00 PM. Admission is $12 per person or $20 Dinner and the show. Dinner includes: Spaghetti, salad, bread, dessert, and a beverage and begins at 6:30 PM each show night. Dinner tickets must be purchased by December 10, 2020. Please note there is no dinner package for Saturday Matinee
Tickets can be purchased on our website beginning December 1, 2020 or at the door.
Please note: During this unusual time, Maumee Valley Civic Theater will continue to monitor what this pandemic means for our theater group and will follow all state and local recommendations for group gatherings and food requirements.
Presale Tickets close on the day of the show at 2 PM and Matinees at 9 AM.
Daddy Long Legs is presented through special arrangement with Music Theatre International (MTI). All authorize performance materials are also supplied by MTI.