James and the Giant Peach – March 9 – 12, 2023 Presented by Premier Bank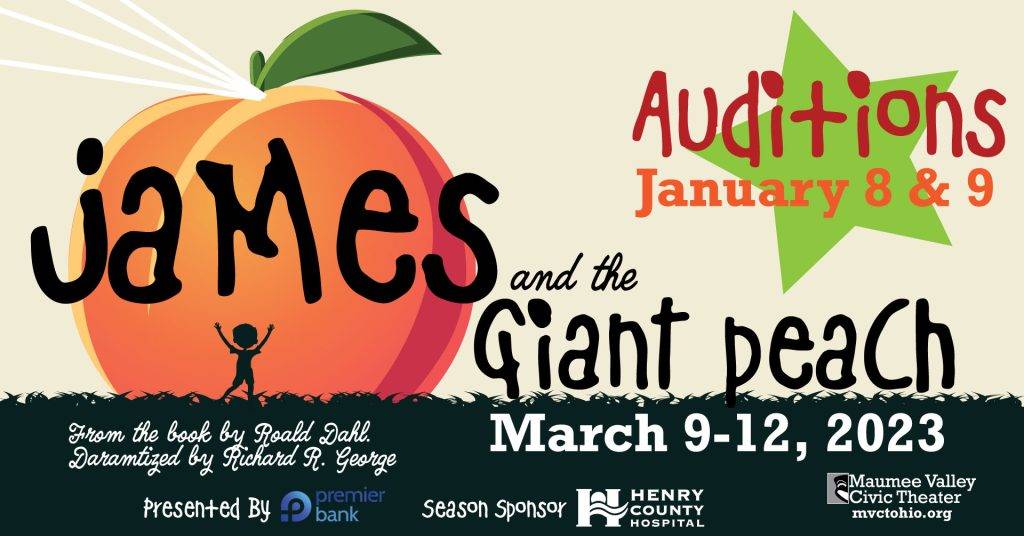 Directed by: Jeffrey Tonjes
Assistant Director: Amanda Tonjes
A magical peach! An imprisoned boy! Insect friends!An incredible journey! By the time the play is over, much is revealed–the wickedness of some, the goodness of others, and the indecision of many when they are faced with crises. This amazing adventure of James Henry Trotter, a boy who dreams of escape from his life and his fearsome aunts is based on the famous children's book written by Roald Dahl. Appropriate for all ages.
March 9 – 12, 2023
Thursday – Saturday at 7:00 PM Sunday at 2:00 PM
American Legion Post 300 (500 Glenwood Ave, Napoleon, OH 43545)
Tickets go on sale in February.
Cast
James Trotter Zach Zwiebel
Aunt Sponge Malory Zwiebel
Aunt Spiker Teal Hasselswerth
Old-Green-Grasshopper Orian Cover
Centipede Jadyce Brown
Spider Lydia Kuehner
Ladybug Addison Minturn
Earthworm Braven Cover
Glow-worm Kinsley Hartson
Mother Angie Knapp
Father Tom Zwiebel
Ensemble* Toria Brown, Sloane Hasselswerth, Camila Magallanes, Emmanuel Magallanes, Marco Magallanes, Joey Tonjes, Sofia Tonjes, Lucy Zwiebel, Quinn Zwiebel
*Specific parts will be given out during rehearsal
Sponsored by: