Please read the entire page
For those who are interested in auditioning and who can commit to the show production schedule please review the below information.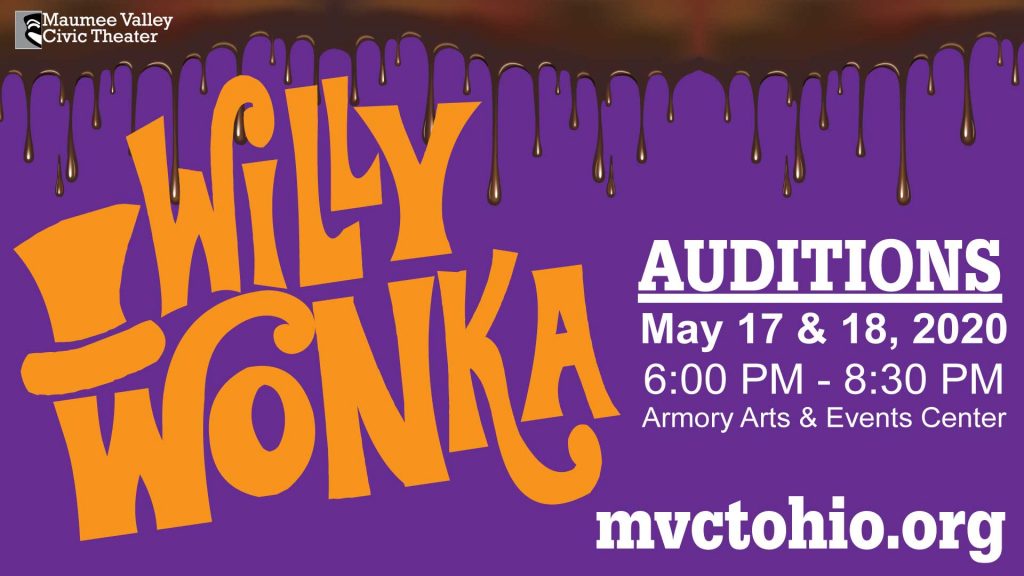 AUDITION FORM (DOWNLOAD, PRINT AND BRING TO AUDITIONS)
AUDITION PACKET (FULL DIGITAL AUDITION PACKET) – COMING SOON!!
The Maumee Valley Civic Theater (www.mvctohio.org) will be presenting Roald Dahl's Willy Wonka.
Roald Dahl's Willy Wonka follows enigmatic candy manufacturer, Willy Wonka, as he stages a contest by hiding golden tickets in five of his scrumptious candy bars. Whomever comes up with these tickets will win a free tour of the Wonka factory, as well as a lifetime supply of candy. Four of the five winning children are insufferable brats: the fifth is a likeable young lad named Charlie Bucket, who takes the tour in the company of his equally amiable grandfather. The children must learn to follow Mr. Wonka's rules in the factory… or suffer the consequences.
Production Staff
Jeffrey Tonjes                       Director
Amanda Tonjes                     Assistant Director
Rhonda Malone Lehman      Vocal Director
AUDITIONS:
May 17 6:00PM – 8:30PM
May 18 6:00PM – 8:30PM
Callbacks, if needed, will be on May 18th towards the end of the night.
Auditions will be held at The Armory Arts and Event Center (127 E Clinton St, Napoleon, OH 43545)
PERFORMANCE DATES AND TIME
July 23-25, 2020 at 7:30PM
July 26, 2020 at 2PM
PERFORMANCE LOCATION
Napoleon Junior High Gymnatorium (701 Briarheath Ave # 1, Napoleon, OH 43545)
AUDITION DETAILS BROKEDOWN
(You can also download all auditions details in one pdf by clicking the link at the top of the page)

Questions? Please contact the Maumee Valley Civic Theater by Facebook, website, email (info@mvctohio.org)