Audition Information
Please read the entire page:
For those who are interested in auditioning and who can commit to each show's production schedule please review the below information.
James and the Giant Peach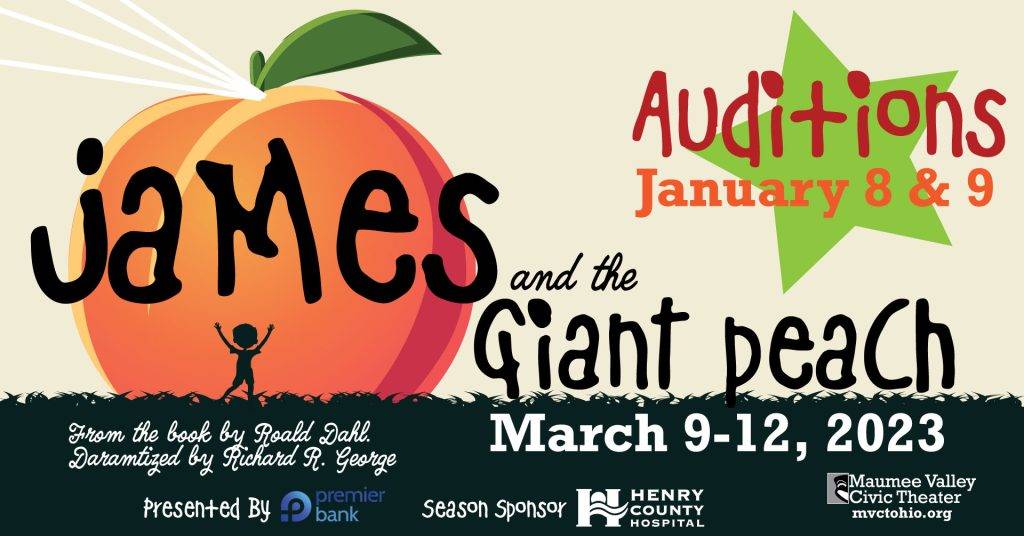 Production Staff
Director                       Jeffrey Tonjes
Assistant Director       Amanda Tonjes

AUDITIONS:
Sunday, January 8  – 5:30 PM – 7:30 PM
Monday, January 9 – 5:30 PM – 7:30 PM
Auditions will be held at Kids Haven (440 Independence Drive, Napoleon, OH 43545)
SHOW DATES AND TIME
MARCH 9 – 12, 2023 – Thursday – Saturday at 7:00 PM Sunday at 2:00 PM
SHOW LOCATION
American Legion Post 300 (500 Glenwood Ave, Napoleon, OH 43545)
REHEARSAL LOCATIONS
In Napoleon. Exact locations TBD
This production is Presented By: Premier Bank and sponsored by: The Henry County Hospital
BASIC AUDITION DETAILS
This year's show will again have many opportunities for all ages. The audition Form, Show Contract, Waiver and Release of Liability, and Costume form, and tentative schedule are available online and at the audition. We highly suggest printing these out and bringing them with you to auditions to make your audition experience smooth.  If you are unable to audition during these times, please contact us at auditions@mvctohio.org prior to January 5.
Due to the tight rehearsal schedule, all conflicts must be presented during your auditions. Conflicts presented after the first rehearsal may not be honored. Please note that excessive conflicts will affect casting decisions. PERFORMANCE CONFLICTS WILL NOT BE ACCEPTED So please ensure ALL conflicts during the rehearsal and show period are noted on the audition form. Communication will be done through phone, email, Remind app, and Facebook groups. Please list a valid email address and phone number on the audition form and audition registration.
Each auditionee this year should be prepared to read a selection (side) of the script. The sides are listed below.
All who audition will also get their headshot taken at auditions which will be used for casting announcements, social media, and programs. So please dress appropriately.
VIDEO AUDITION
If you are unable to make the general auditions (we strongly recommend an in-person audition), please email auditions@mvctohio.org with any questions or concerns.
SCRIPT SIDES
Each auditionee should be prepared to read a portion of the script (side). Chose what side is best for you and the part that you are interested in. Please understand just because you read a specific side doesn't mean that is the only role that you will be considered for.
Please see the list below:
James page 15
Centipede (or any insect) page 20/37
Old-Green-Grasshopper (or any insect) page 19
Ensemble – Little Old Man page 10
You may peruse the entire script and review the sides by downloading the entire script through the following link > https://www.dropbox.com/s/oala5bitqwd718u/James_script.pdf?dl=0
TYPICAL REHEARSAL SCHEDULE
Rehearsals will generally 3 times a week on Saturday/Sunday (1 PM-5 PM), Tuesday (6-8 PM), or Thursday (6-8 PM) in Napoleon. (These days and times may change based on Actor schedules)
Please also note there are scheduled set build/paint days that we require everyone to participate (family members are encouraged to help)
PARTICIPATION FEE
There is a participation fee to participate in this show. Since the Maumee Valley Civic Theater (MVCT) relies on donations, program ad sales, ticket sales, and your participation fee to ensure our shows are high quality. This fee helps with obtaining the rights for the show, costumes, set pieces, props, and advertising. Please note you may be asked to provide certain costume pieces for the show not limited to shoes, pants, shorts, etc.
**The participation fee SHOULD NOT deter anyone from auditioning and participating. There are several ways for Actors to accomplish this. If this is something you need help with, please see the Production Staff for guidance (as a reminder there is no family maximum for Participation Fees for this show). **
SHOW SYNOPSIS
A magical peach! An imprisoned boy! Insect friends! An incredible journey! This amazing adventure of James Henry Trotter will fulfill the fantasy of anyone who has ever dreamed of escape. Roald Dahl's story comes hilariously to life in this delightful dramatization that reveals the wickedness of some, the goodness of others, and the indecision encountered by many when they are faced with crises. You will see James (as he cleverly gets the Peach out of danger), the wise Old-Green-Grasshopper, and the pessimistic Earthworm. You will also see James' mean Aunt Spiker and cruel Aunt Sponge come to a suitably sticky end. The action is tied together by the Narrator, a storyteller, a motivator, an emcee, and an audience friend.
CHARACTERS
(roles are open to performers of all ethnicities and gender identities/expressions)
Mother
Father
Narrator
James
Aunt Sponge
Aunt Spiker
Little Old Man
Onlookers (Crowd Members)
Old-Green-Grasshopper
Centipede
Spider
Lady Bug
Earthworm
Glow Worm
Silk Worm
Sharks
Seagulls
Captain
First Officer
Second Officer
Cloud Men
General Show Contract
To participate in this MVCT show I agree to abide by the following:
Rehearsal will begin on time. I will arrive 5-10 minutes early and be prepared to start right on time.
If I am a minor that does not drive, my parents agree to pick me up on time from all rehearsals. (Early releases from rehearsal will be sent via the Remind APP)
MVCT may have a $25-$50 participation fee for the show which can be made by credit card by visiting the cast/crew resource page on our website or checks can be written to MVCT or cash and given to the Assistant Director, Amanda Tonjes, at the first rehearsal. Unfortunately, there are no family maximum Participation Fees for this show. Why do we have a participation fee?
MVCT expects all cast to help support the production by selling at least $100 in either Program ads, patron donations, corporate donations, shoutouts/break-a-leg messages, and/or $100 in orders in the announced fundraiser (if available). If you have more than one member of your immediate family in the cast, you only need to sell $200 per family. *Please note this is in addition to the Participation Fee.
I understand that I MUST LIST my conflicts with the presented tentative rehearsal schedule on my audition sheet. I also understand that I am allowed three total unexcused absences (although not encouraged). When I miss my 4th rehearsal, I may be replaced.
I understand that I may NOT film any portion of this production and/or share it on social media sites such as YouTube, Facebook, Instagram, Twitter, TikTok, etc. unless you have been specifically asked to do so by one of the MVCT Production Team members.
I understand that I may not miss ANY rehearsal time the week of the show unless approved by an MVCT Production member.
I will clean up after myself during rehearsals and performances and will respect the rehearsal and performance venues.
I will respect my fellow actors and the Production Team by staying quiet and listening.
I will participate, when I can, in post-show events to help bring awareness to MVCT. (i.e. Tomato Pageant Parade, Henry County Fair Gates, etc.)
I will be issued a script and will take notes on my blocking, dances, and musical numbers, in the said script.
I will work to get off the script as quickly as possible.
If I am cast in a lead role, I understand that I will be needed for promotional events outside of the rehearsal schedule. This could include meet and greats, publicity events, radio interviews, and promotional photo shoots.
I understand that I am responsible for replacing my mic cord if it is found that it is my fault for breaking it. (est. cost $40)
Downloadable items:
Joseph and the Amazing Technicolor Dreamcoat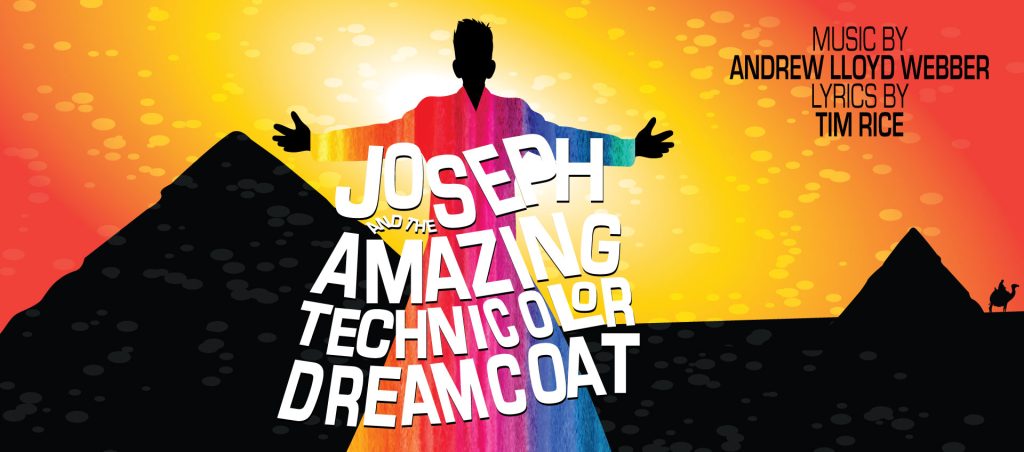 Audition details for Joseph and the Amazing Technicolor Dreamcoat will be released in April 2023