The Miraculous Journey of Edward Tulane (April 28 – April 30, 2022 at 7:00 PM and May 1, 2022 at 2:00 PM)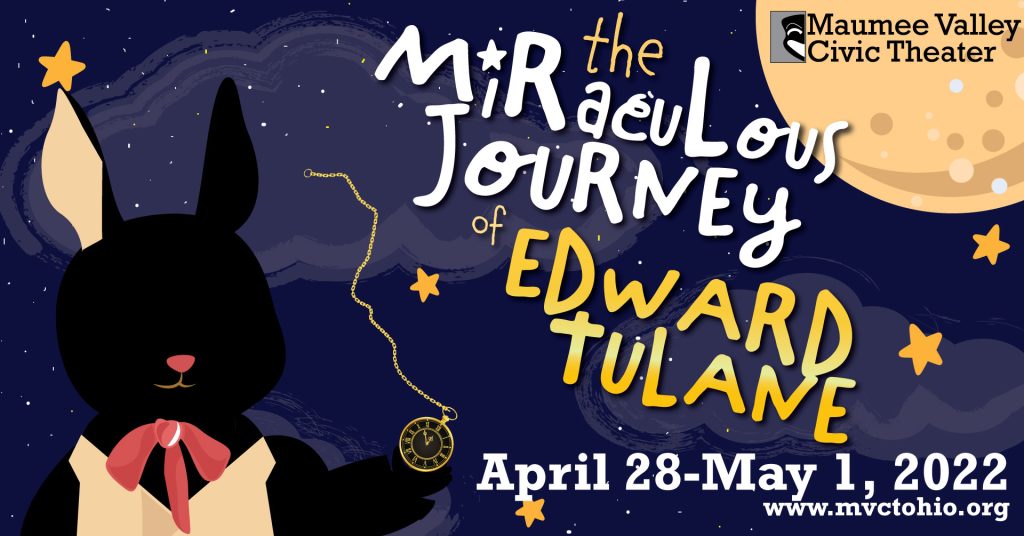 Adapted by Dwayne Hartford. From the book by Kate DiCamillo.
Due to a venue schedule conflict we have decided to postpone The Miraculous Journey of Edward Tulane to April 28-May 1, 2022. 
Maumee Valley Civic Theater (MVCT) will perform the beautiful heartfelt story of The Miraculous Journey of Edward Tulane based on Kate DiCamillo's young adult novel of the same name.
Edward Tulane is an expensive toy rabbit made of china. He is loved by a little girl named Abilene, but Edward doesn't care. He is vain and self-centered. He has no interest in anyone other than himself. On an ocean voyage, Edward is accidentally thrown overboard and sinks to the bottom of the sea. So begins his journey—a journey over which he has no control, for he is a toy rabbit. He can neither move nor speak. As years pass by, Edward meets many different people in many different situations: an older grieving couple who find comfort in Edward's presence, a hobo and his dog who introduce Edward to a whole community of homeless wanderers, a farmer in need of a scarecrow, a sad little boy and his very ill sister, and finally a doll mender and an old doll who teach Edward an invaluable lesson. Through this miraculous journey, Edward learns what it is to love, what it is to lose that love, and how to find the courage to love again. Director Jeffrey Tonjes and Assistant Director Amanda Tonjes.
Tickets are $10 presale and $12 at the door. Tickets can be purchased online on our website (www.mvctohio.org) or at the door.
MVCT will follow all required Covid guidelines.
CAST
The
Traveler- Shellee Murcko
T
he Musician – Bennett Aderman
The Women – Ariel Meister