Willy Wonka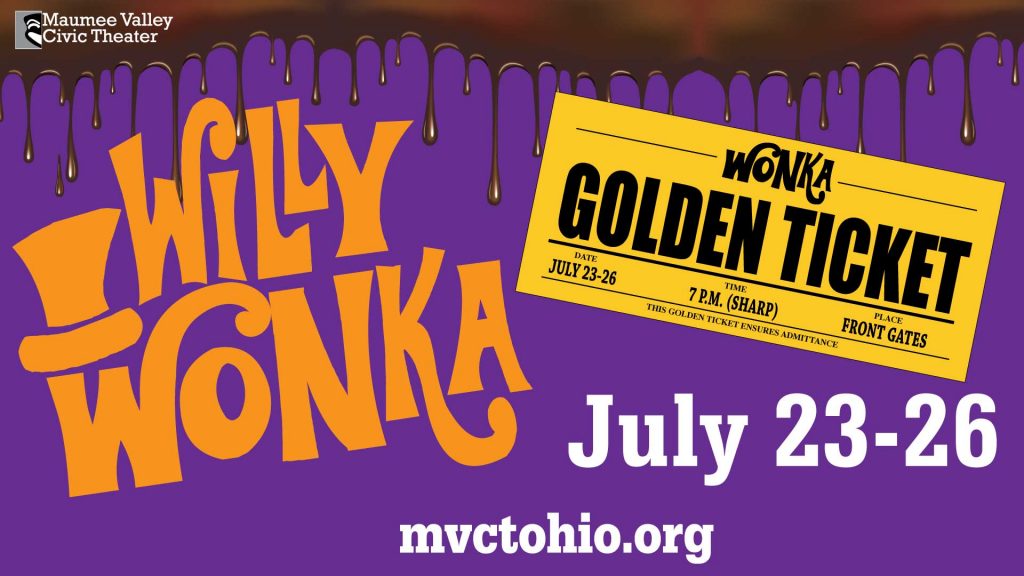 MVCT Invites Audiences to Enter a World of Pure Imagination with the Sweet World of Roald Dahl's Willy Wonka July 23-26
Maumee Valley Civic Theater (MVCT) is inviting audiences to enter a world of pure imagination with Roald Dahl's Willy Wonka. Based on the Book "Charlie and The Chocolate Factory" by Roald Dahl and featuring the enchanting songs from the 1971 film, and new songs by Leslie Bricusse and Anthony Newley. This scrumptious musical follows the adventures of Charlie Bucket, played by MVCT newcomer Bennett Aderman, and the other Golden Ticket holders (Perri Webb as Violet Beauregarde, Abbie Fricke as Veruca Salt, Jordyn Sunior  as Augustus Gloop, and Joseph Tonjes as Mike Teavee), through Willy Wonka's, played by Tyler Cowdrey, whimsical and mysterious Chocolate Factory filled with Oompa-Loompas, fun, candy and magic around every corner.
This sweet musical adaptation of Roald Dahl's timeless story comes to life nightly on the front lawn of the Napoleon Civic Center (303 W. Main Street, Napoleon, OH), formally the historic Central Elementary/Middle School, from July 23 through July 26, 2020. Show begins at 7:30 PM Thursday-Saturday and 2:00 PM on Sunday. General admission tickets are $10 and can be purchased on our website and at the gate. Seating is first come first serve, so grab your lawn chair, blanket or both as there is limited picnic table seating. Grounds open 30 minutes prior to show. There are no coolers allowed on the lawn. Also please note: smoking is only allowed in designated marked areas.
This year's summer MVCT production is directed by Jeffrey Tonjes – MVCT President and Director of 25th Annual Putnam County Spelling Bee, The Wizard of Oz, and last year's chilling hit The Addams Family. Assisted sby Amanda Tonjes and Vocal Direction by Rhonda Lehman.
During this most precredit time let's keep each other safe and when choosing your spot on the lawn don't forget to leave a little distance between your group and the next. Face masks are suggested however they are not required. Come enjoy this classic story with us and don't forget to bring your family and friends.
Music and Lyrics by: Leslie Bricusse and Anthony Newley. Adapted for the Stage by: Timothy Allen McDonald and Leslie Bricusse. Based on the book Charlie and The Chocolate Factory by Roald Dahl
Roald Dahl's Willy Wonka is presented through special arrangement with Music Theatre International (MTI). All authorize performance materials are also supplied by MTI.
Production Staff
Director                        Jeffrey Tonjes
Assistant Director          Amanda Tonjes
Vocal Director               Rhonda Malone Lehman
CAST LIST
Willy Wonka/Candy Man      Tyler Cowdrey
Phineous Trout                       Sheena Clevenger <
Charlie Bucket                         Bennett Aderman <
Mrs. Bucket                            Katie Davis <
Mr. Bucket                              Josiah Barnhart
Grandma Josephine               Nichole Lareau <
Grandma Georgina                Amy Drees
Grandpa George                     Keith Robinson <
Grandpa Joe                           Tom Zwiebel #
Augustus Gloop                      Jordyn Sunior
Mrs. Gloop                              Miranda Skiver #
Veruca Salt                             Abbie Fricke
Mr. Salt                                   Kyle Pettit #
Mike Teavee                           Joseph Tonjes
Ms.Teavee                              Ariel Meister
Violet Beauregarde                Perri Webb <
Mrs. Beauregarde                  Breanne Eickholt
Oompa-Loompas
Evelyn Aderman <
Abigail Baker
Georgia Baker
Allen Barth
Kinsley Hartson
Brenna Massie
Bethany Miesner <
Carter Meister <
Emma Randall
Lucy Zwiebel
Zachary Zwiebel
Ensemble
Issac Aderman <
Emma Berry
Elleah Davis <
Landon Fricke
Kane Hartson
Zayne Hartson
Krisma Ramirez <
Trinity Saxton
Emily Yagel <
# MVCT Board Member
< MVCT Stage Debut