You're a Good Man, Charlie Brown (February 10-12 at 7:00 PM and 13 at 2:00 PM, 2022)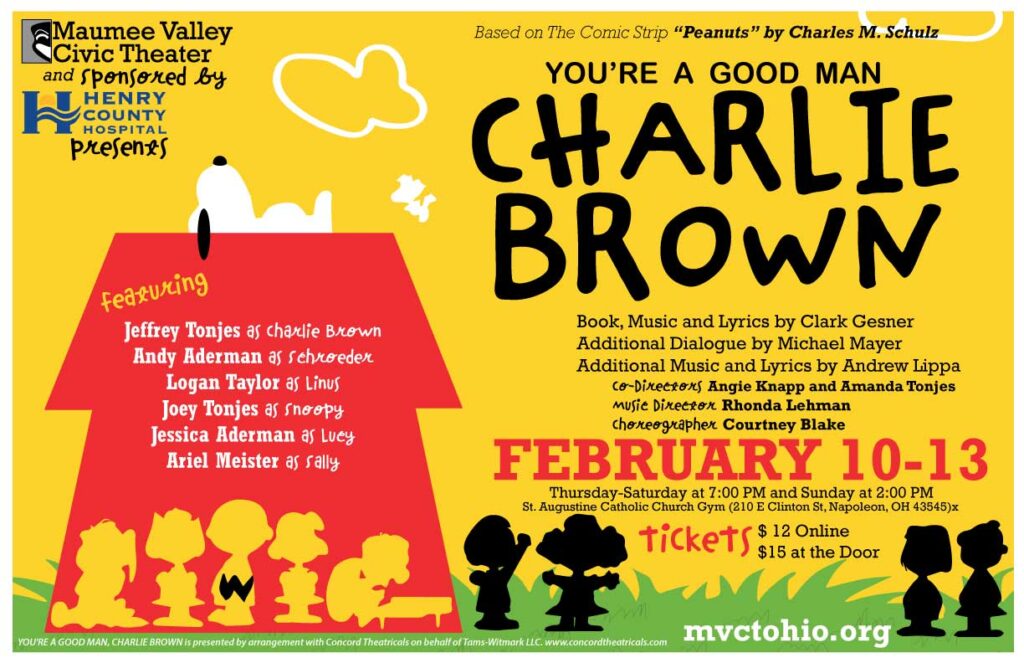 Maumee Valley Civic Theater and the whole Peanuts gang is coming to Henry County this winter for a live musical production filled with the heartfelt charm only Charlie Brown can deliver, February 10-12 at 7:00 PM and February 13 at 2:00 PM at St Augustine Catholic Church Gym (210 E Clinton St, Napoleon, OH 43545). Meet us in the gym as Charlie Brown, Lucy, Snoopy and the whole Peanuts gang celebrate life's ups and downs through song, dance, and clever vignettes. Based on the beloved Charles Schulz comic strip, this delightfully witty musical is guaranteed to engage audiences of all ages. After all, no one contemplates Life's biggest questions while playing baseball, grappling with homework, and falling for first crushes quite like Charlie Brown.
In the end, the biggest celebration is found in the joy of friendship and knowing that Happiness is…what we make of it!
Tickets are pre-sale $12 and $15 at the door. All tickets are assigned seating. Tickets can be purchased online on our website (www.mvctohio.org) up until the day of the show (midnight) or at the door.
MVCT will follow all required Covid guidelines.
Production Team
Co-Directors – Angie Knapp and Amanda Tonjes
Music Director – Rhonda Lehman
Choreographer – Courtney Blake
Cast
Charlie Brown – Jeffrey Tonjes
Schroeder – Andy Aderman
Linus – Logan Taylor
Snoopy – Joey Tonjes u/s Cassandra Thompson
Lucy – Jessica Aderman
Sally – Ariel Meister u/s Abigail Zachrich
Marci – Orian Cover
Frieda – Stacy Holbrook
Shermy – Zach Zwiebel
Peppermint Patty – Bailey Holbrook
Sophie – Bella Hernandez
Violet – Evelyn Aderman
Pig Pen – Finn Aderman
Blanket – Cassandra Thompson
Head Woodstock – Abigail Zachrich
Woodstocks – Braven Cover, Collins Floering, Carter Meister, Sofia Tonjes
Dance Captain – Cassandra Thompson
Ensemble – Evelyn Aderman, Orian Cover, Bailey Holbrook, Stacie Holbrook, Bella Hernandez,  Logan Taylor, Cassandra Thompson, Abigail Zachrich, Zach Zwiebel
Stage – Caitlyn Kuehner