Mother Daughter American Girl Doll Tea Party – April 16, 2023
Date: April 16, 2023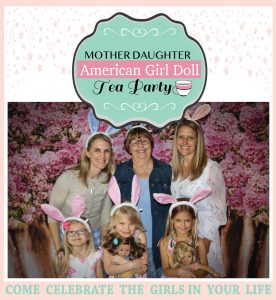 We are in search of volunteers to help decorate our 30+ tables (the number is determined by guests who purchase tickets), help prepare the food for the event, help with our beauty parlor, and help serve and be a hostess for all of these young ladies.
April 16, 2023
EVENT TIME: 1:00 PM (Please see specific volunteer arrival times below)
LOCATION: The Armory Arts and Events Center (1398 Oakwood Ave #1396, Napoleon, OH 43545)
To sign up please read the following requirements for each position below:
Table Decorator
There will be approx. thirty (30) 60" round tables which are approx. 252 attendees. (exact numbers will be determined once the events tickets are sold out. Tickets go on sale March 2023) Each table seats 8 people (you will be assigned a table unless you let us know in advance if you want a table that you know the people at) You are responsible for the decorations of the table only, including table cloth. In the past, many decorators put out little treats, surprises, and/or table favor for the little girls however Maumee Valley Civic Theater will be providing these to them again this year.  
In the past decorators have had: rabbits, squirrels, anything and everything Disney, butterflies, flowers, fish, Dora, princesses, bugs, music themes, fairies, gardens, owls, birds, and so on and so on. MVCT will provide glass plates, teacups, and silverware, however many decorators have brought their own table settings, placemats, and napkins to fit their table theme/motif and/or color scheme. All we ask is that you let us know if you are furnishing your own. 
The Armory and Events Center will be available for set-up and decorating on Sunday beginning at 10:30 am and all tables will need to be  guest-ready no later than 12:15 PM. You will need to come to strike your table decorations around 4:00 PM/4:30 PM
Tea Host/Stylist/General Volunteer
These positions help the event leaders keep the event flowing smoothly. You will also help ensure that each table has tea, coffee, water, sandwiches, and a mini beauty session for the little girls and their dolls. (Bows and many other hair accessories are provided), and above all help make this day magical for these young ladies. Plus, you can dress up!  Volunteers should arrive at 12:00 PM. The event ends at approximately 4:00 PM/4:30 PM
Sign up below...