Cast/Crew Resource Portal
Welcome to the Cast and Crew Resource Portal Page. This page will house all the details you will need while being a part of a MVCT Production.
Current Show: James and the Giant Peach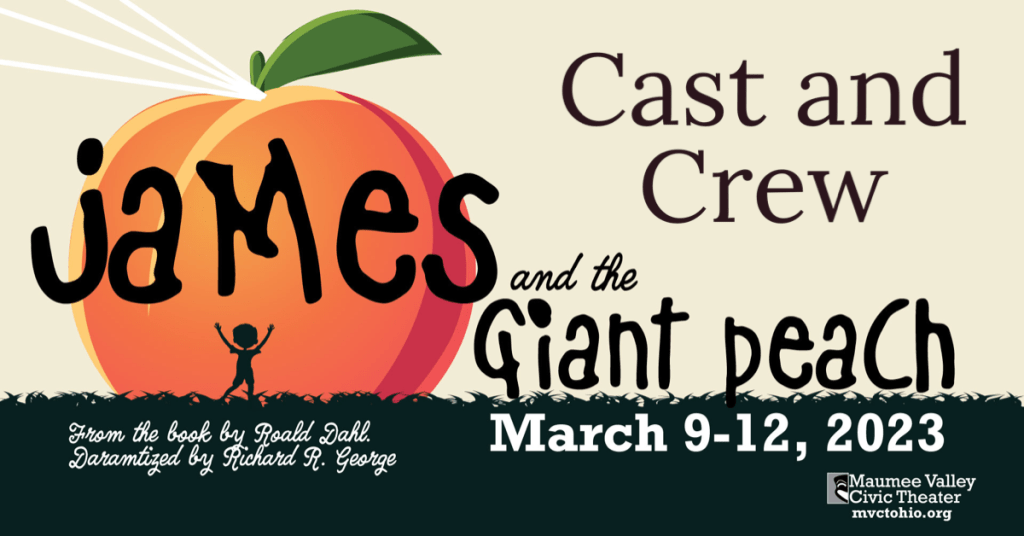 Production Team
Director: Jeffrey Tonjes
Assistant Director: Amanda Tonjes
Cast/Crew Participation and show item Form
REMINDERS
CDC GUIDELINES
Currently masks will not be required at rehearsal or during the performance of the show, however they may be required depending on the status of Covid 19 all actors must be willing to comply if this happens. Participants are encouraged to wash their hands before and after rehearsals and if you are not feeling well, you should not attend rehearsal. (If you are sick and cannot make rehearsal, please let a production staff member know ASAP by calling the below numbers or using the Remind App) These guidelines are subject to change. 
Director

 

Jeffrey Tonjes

 

419-906-5549

 

Assistant Director

 

Amanda Tonjes

 

419-906-5603

 
COMMUNICATION
It is very important that we all communicate during this process. MVCT has several ways we communicate information out to cast and crew. Please make sure you are signed up for at least one of these options below. 
Here are a few ways we communicate: 
Our MVCT's Show Cast/Crew Facebook Group https://www.facebook.com/groups/912511836597587
Through the Remind App (See the additional page on how to sign up)

 
TYPICAL REHEARSAL SCHEDULE
Rehearsals will generally be 1 to 3 times a week during June on Sunday (1PM-5PM), Monday (6-9PM), Tuesday (6-9PM), or Thursday (6-9PM) in Napoleon. In July rehearsals will be more frequent closer to the show. These rehearsals will be divided into blocking, vocal, choreography, and run of the show. Extra private music rehearsals may be called for principal roles. Should you be cast, you will be contacted by the Vocal Director for your availability and scheduling. You may also contact the Vocal Director if you would like to schedule more time working on the music outside the rehearsal process. 
Please also note there are scheduled set build/paint days that we require everyone to participate (family members are encouraged to help) 
PARTICIPATION FEE (DUE NOW)
There is a participation fee to participate in this summer's show. Since the Maumee Valley Civic Theater (MVCT) relies on donations, program ad sales, ticket sales, and your participation fee to ensure our shows are high quality. This fee helps with obtaining the rights for the show, costumes, set pieces, props, and advertising. Please note you may be asked to provide certain costume pieces for the show not limited to shoes, pants, shorts, etc.  
**The participation fee requirement SHOULD NOT deter anyone from participating. There are several ways for Actors to accomplish this. If this is something you need help with, please see the Production Staff for guidance (as a reminder there is not a family maximum for Participation Fees for this show). ** 
PAY YOUR PARTICIPATION FEE and PURCHASE SHOW ITEMS
VENMO: You can also send money for items via MVCT's Venmo account. To do so please make sure that you list everything that you are paying for in the notes. MVCT's Venmo is: @MVCT419 (Scan the QR Code below to pay with Venmo)