Stage Bill (Program) Advertiser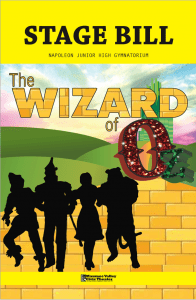 For as little as $50, businesses who want to reach a captive audience and appeal to a group of people who appreciate the arts, we offer high-quality advertisement ad sales in our season and show Stage Bill programs. Funds from Program ads are used first to underwrite the production and printing of the programs themselves. All remaining funds will be used to support future productions and other items for our shows.
Stage Bill Program Advertising Deadlines
ALL TOGETHER NOW (DEADLINE NOVEMBER 1, 2021)
THE MIRACULOUS JOURNEY OF EDWARD TULANE (DEADLINE NOVEMBER 30, 2021)
YOU'RE A GOODMAN CHARLIE BROWN (DEADLINE JANUARY 7, 2022)
SPONGEBOB THE MUSICAL (DEADLINE JUNE 10, 2021)
FULL SEASON DEADLINE: NOVEMBER 30, 2021 – if signed up by November 1, 2021, your ad will be in the All Together Now Program too!)
Ad Size

Single Show

**FULL SEASON and PERKS**

Full Page (4.5" x 7.5") Inside program

$150

$300

Two Season Passes

Half Page (4.5" x 3.625")

$125

$250

One Season Pass

Quarter Page ¼ (4.5" x 1.75")

$75

$150

n/a

Block Ad (2.5" x 2.5")

$50

$100

n/a

Full Color Inside Front Cover**

$200

$450

Three Season Passes

Full Color Inside Back Cover**

$200

$450

Three Season Passes

Full Color Back Cover**

$200

$450

Three Season Passes
Maumee Valley Civic Theater is a 501(c)(3) non-profit organization dedicated to enriching and educating the community through the performing arts. All contributions to MVCT are tax-deductible and support this vital mission.