Program Advertiser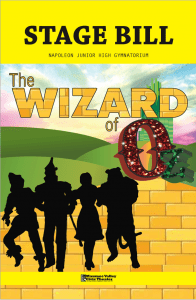 Each year more than 5,000 people visit our shows and watch a play or musical. These years of success are due in large part to our advertisers. We could not have done it without them. 
Advertising in the Maumee Valley Civic Theater (MVCT) programs not only helps your business reach new customers it also helps ensure that the Maumee Valley Civic Theater keeps offering quality entertainment to Northwest Ohio.

Give back to the community and benefit your company all at the same time. We are always looking for businesses to support local theater by advertising in our programs. Ticket sales cover just 50% of our annual expenses, even when shows sell out. As a non-profit organization, we depend upon the support of program advertisers, show sponsors, and individual donors to help us balance our budget. Your program ad purchase helps to subsidize production costs (such as building sets and paying show rights) and allows us to maintain the kind of artistic quality our audience has come to expect and enjoy.
By advertising with MVCT,  you will not only promote your business but enhance your reputation as a community booster and help strengthen your local arts community.
For as little as $50, businesses who want to reach a captive audience and appeal to a group of people who appreciate the arts, we offer high-quality advertisement ad sales in our season and show Stage Bill programs. Funds from Program ads are used first to underwrite the production and printing of the programs themselves. All remaining funds will be used to support future productions and other items for our shows.
Download the Paper Form to mail to MVCT
View an example of our Program
Ad Size

Single Show

 

Full Page (4.5" x 7.5") Inside program

$150

 
 

Half Page (4.5" x 3.625")

$125

 
 

Quarter Page ¼ (4.5" x 1.75")

$75

 
 

Block Ad (2.5" x 2.5")

$50

 
 

Full Color Inside Front Cover**

$200

 
 

Full Color Inside Back Cover**

$200

 
 

Full Color Back Cover**

$200