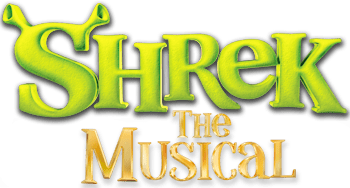 PURCHASE TICKETS ONLY ONLINE NOW
Pre-Sale $13
At the Door $15
Click here to purchase your tickets to Shrek NOW
Director                    Kim Bingham
Assistant Director       Melissa Rausch
The Cast
SHREK: Don Hasselswerth
FIONA: Anna Murcko
DONKEY: Ethan Jessing
LORD FARQUAAD: Tom Zwiebel
DRAGON: Kait Meece
PINOCCHIO: Landon Healy
TEEN FIONA: Abbie Fricke
YOUNG FIONA: Annabelle Bingham
GINGY: Ryan Kruse
LITTLE SHREK: Zachary Zwiebel
PAPA SHREK: John Meece
MAMA SHREK: Pat Maassel
KING HAROLD: Phill Etoll
QUEEN LILLIAN: Shellee Murcko
MAMA BEAR: Megan Badenhop
PAPA BEAR: Nathan Jaqua
BABY BEAR: Caleb Cooper
BIG BAD WOLF: Mark Schwiebert
PETER PAN: Hannah Hartsock
UGLY DUCKLING: Catarina Middleton
FAIRY GODMOTHER: Elizabeth French
SUGAR PLUM FAIRY: Sydney Berry
WICKED WITCH: Pat Maassel
THREE PIGS: Kyle Pettit, Travis Geahlen, Caleb Baldridge
ELF: Hayes Bingham
MAD HATTER: Paige Sherman
HUMPTY DUMPTY: Teal Hasselswerth
WHITE RABBIT: Graysen Jones
BLUEBIRD: Shellee Murcko
THELONIUS: Phill Etoll
BISHOP: John Meece
PIED PIPER: Travis Geahlen
DULOC DANCERS: Jordan Blue, Kaitlyn Wiemken, Christa Gerken, McKenna Witte, Sarah French, Jordyn Kinnersly, Haylie Westfall, Olivia Lehman, Samantha Wulff, Madison Downing, Adelaide Healy, Symantha Barrera, Caleb Baldridge, Travis Geahlen, Kyle Pettit, Abbie Fricke
CHORUS: Nicole Baringer, Jeremy Ledyard, Beth Gerken , Ella Rosebrook, Ella Fox,, Malory Zwiebel, Lucy Zwiebel , Reagan Beilharz, Elizabeth Gribler, Mark Bockelman, Olivia Maassel, Alison Repass, Maddie Lloyd, Leah Gerdeman, Paige Sherman, Katelyn Schroeder
Synopsis
Based on the Oscar-winning DreamWorks Animation film, Shrek The Musical is a Tony Award-winning fairy tale adventure, featuring all new songs from Jeanine Tesori (Thoroughly Modern Millie; Caroline, or Change) and a sidesplitting book by David Lindsay-Abaire. Shrek brings all the beloved characters you know from the film to life on stage and proves there's more to the story than meets the ears."Once upon a time, there was a little ogre named Shrek…." And thus begins the tale of an unlikely hero who finds himself on a life-changing journey alongside a wisecracking Donkey and a feisty princess who resists her rescue. Throw in a short-tempered bad guy, a cookie with an attitude and over a dozen other fairy tale misfits, and you've got the kind of mess that calls for a real hero. Luckily, there's one on hand… and his name is Shrek.Shrek presents a treasure trove of creative opportunities, including costumes, sets, puppets (there is a fire-breathing dragon after all) and more! Irreverently fun for the whole family, Shrek proves that beauty is truly in the eye of the ogre.
Video Trailer courteous of Fresh Movie Trailers
Character Descriptions
SHREK
Age: 20-40
A green, grumpy ogre who lives in the swamp by himself but beneath the surface longs for friendship and acceptance. He is outwardly sarcastic but is loyal and loving. Must be able to maintain a Scottish accent while speaking and singing. Must be ok with wearing heavy makeup and costuming. Minimal dancing.
PRINCESS FIONA
Age: 20-35
She was exiled by her parents to a tower guarded by a fierce dragon when she was only a girl. Emotionally damaged and a bit quirky. She is feisty and rude but also blindly optimistic. Eventually, falls in love with Shrek. Dance and tap experience beneficial but not necessary.
LORD FARQUAAD
Age: 25+
Dwarf sized dictator of the fairytale kingdom of Duloc. Has resentment for his father who abandoned him. Self centered and cruel. Pompous and tends to shriek when angry or excited. Very over the top. Very physical role. Must be able to be on knees for entire performance, including dancing.
DONKEY
Age: 18+
Sassy and confident. Very energetic and overly excited to the point of distraction. He is also loyal to his friends through thick and thin. Must be able to sustain high energy throughout the performance.  
DRAGON
Age: Any
She is lonely and soulful. Stuck guarding Fiona in a tower. Falls in love with Donkey. Soulful voice beneficial but not necessary.
PINOCCHIO
Age: Any
A feisty wooden puppet who just wants to be a real boy. He wants to fit in but needs to accept his who is.  Must be able to sing and speak with falsetto. Dance experience beneficial but not necessary.
YOUNG FIONA
Age: 7-12
Very energetic and hopeful. She clings to the hope that her prince will rescue her. Appears in I Know It's Today and Big Bright Beautiful World. Singing experience beneficial but not necessary. May play additional roles later in the show. 
TEEN FIONA
Age: 12-15
A lonely and dreamy teen. More cynical after years of captivity. She is getting tired of waiting for her prince to come rescue her but is still convinced he will. Appears in I Know It's Today. Singing experience beneficial but not necessary. May play additional roles later in the show. 
OGRE PARENTS/KING HAROLD AND QUEEN LILLIAN (FIONA'S PARENTS)
Age: Any (able to play older adult)
They appear and sing in Big Bright Beautiful World. Able to play multiple roles throughout the show.
FAIRYTALE CREATURES
Age: All Ages
Includes:
Mama Bear
Papa Bear
Baby Bear
3 Pigs
Big Bad Wolf
Peter Pan
Ugly Duckling
Wicked Witch
Mad Hatter
Fairy Godmother
Humpty Dumpty
Elf
Sugar Plum Fairy
Gingy (Puppet that is controlled by Sugar Plum Fairy or another fairytale creature. Must             be able to create a distinct voice that is distinct from the other character you will play.)
Other fairytale creatures can be added to accommodate the size of the chorus. These characters have various speaking roles and solos. They appear in Story of My Life, Freak Flag, The Goodbye Song, Wedding, Stop the Wedding, Finale and more.
OTHER ENSEMBLE ROLES
Age: All Ages
Includes:
Mob (beginning of Big Bright Beautiful World)
            Dwarf (Lord Farquaad's father; Stop the Wedding)
3 Blind Mice (Dance and Sing in Make a Move with Donkey)
Little Shrek (appears in Big Bright Beautiful World. No speaking or singing)
Capitan of the Guard
Guards
Thelonius (will appear in scenes with Lord Farquaad)
4 Knights (Speaking and singing, appear in Forever)
            Pied Piper (in Morning Person)
Tap Dancing Rats (dance in Morning Person. Tap dancing experience beneficial)
Captain of the Guards
Bishop (Marries Fiona and Shrek)
Duloc Dancers (appears in What's Up, Duloc)
Dish/Spoon/Cow (appears in Travel Song)
Forest Creatures (appears in Travel Song)
These roles may be double cast depending on size and versatility of the cast. These minor roles may not be announced at casting.