Stage Bill (Program) Advertiser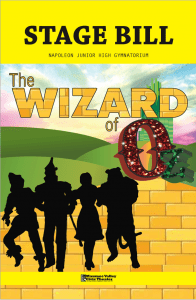 Support Community Arts with a MVCT Stage Bill Ad!
Advertising in our program helps support not only MVCT it helps to promote your business over 1000 patrons who attend our shows each year.
It's easy…

1. Choose your ad size.
Sample ads and copy ideas can be found in the Show Bill link below
2. Complete this online ad reservation and payment form. 
Than email your camera-ready ad, or logo and ad copyright to info@mvctohio.org. If you need any help, please contact info@mvctohio.org.
3. Come see the show!
We know you'll be proud to be an important part of the talented cast and crew of the MVCT Shows.
Full Page (4.5" x 7.5") Inside program $100
Half Page (4.5" x 3.625") $75
Quarter Page ¼ (4.5" x 1.75") $50
Block Ad (2.5" x 2.5") $25
Full Color Inside Front Cover*** $125
Full Color Inside Back Cover*** $125
Full Color Back Cover*** $150
*Camera-ready ads may be emailed to info@mvctohio.org. Please send ad only as a PDF (no Word or Publisher files, please). Ad should be sent in the PROPER Size – see dimensions above width x height. Don't forget to mail your payment with this form and indicate that you have emailed the ad.
***Please contact MVCT at info@mvctohio.org for availability of these ads prior to sending in your payment.
Reserve your spot today in our program!
Click to view a past show program example
TIPS:
• Please be sure that your ad meets our mechanical requirements: PDF file format is preferable. Please convert Word docs to PDF.
• Please make your ad in the proper size/orientation.
• Name your file properly so it doesn't get lost! "Advertiser name-size.pdf" ex: "Jones Family-half page.pdf" or "Acme Deli-Full page.pdf" 
• If your ad is a business card, simply scan it, name it, and attach the file in the upload file section of the form. You can add further notes (example a note of congratulations) in the instructions field. 
• We are happy to help you design your ad, find clip art, scan photos, etc. Please contact us at info@mvctohio.org.